Product Description
Details
Clear Blue Bio toilet fluid 500ML is a new generation, multi-purpose, clear toilet fluid primarily for cassette/waste tanks and flush tanks in caravans, motorhomes and portable camping toilets. Clear Blue Bio toilet fluid is also suitable for use in septic tanks, boat holding tanks and grey water tanks (where the blue dye isn't an issue). Clear Blue Bio is a very green toilet fluid, but is transparent in colour.
Our mission was to create a portable toilet fluid that was as environmentally friendly as possible without compromising on performance. For a start Blue Bio toilet fluid works really rather well. We found a way to increase the amount of waste and odour consuming natural bacteria in the product without making the price unsavoury. Combine that with the small dilution rate and we're hoping it's an offer you can't refuse.
We made it multi-purpose so you can use it in the waste and flush tank, holding tank, grey water tank and septic tank. Therefore avoiding the need to buy multiple, separate products. That could save you significant sums of money and takes less space in the storage cupboard. Clear Blue Bio toilet fluid cleans the flush tank, keeping it mould and limescale free. Oh, and it smells nice too. We put Clear Blue Bio toilet fluid into a handy dosing bottle, so you can dose your tanks accurately, with less fuss and mess. This means you will get loads of doses out of the 1 litre bottle.
Clear Blue Bio toilet fluid works with mother nature to breakdown waste whether it's in your caravan, motorhome, boat or in the sewage plant. Clear Blue Bio toilet fluid is formaldehyde, glutaraldehyde and biocide free (harmful substances contained in many toilet fluids) and works with natural bacteria to breakdown sewage. This greatly reduces its impact on the environment and brings disposal costs down (associated with chemical disposal). It's non-hazardous and 100% biodegradable, making it the friendly chemical toilet fluid that works!
Clear Blue Bio toilet fluid works through natural biological activity. Many toilet fluids work by using strong detergents, disinfectants and preservatives to control bad odours. This has two main problems:
1. They contain harmful substances that do not degrade easily/quickly in the environment (even when the product states it is biodegradable).
2. They actually hinder sewage farms because waste containing harsh toilet fluids kills the good bacteria, making it hard to breakdown sewage.
Clear Blue Bio toilet fluid contains specially selected ingredients, so it breaks down quickly and works with natural bacteria to degrade waste. Not only does it work with nature but Clear Blue Bio toilet fluid is effective too. No need to compromise on performance, Clear Blue Bio actually outperforms many harsh chemical toilet fluids with a smaller dose!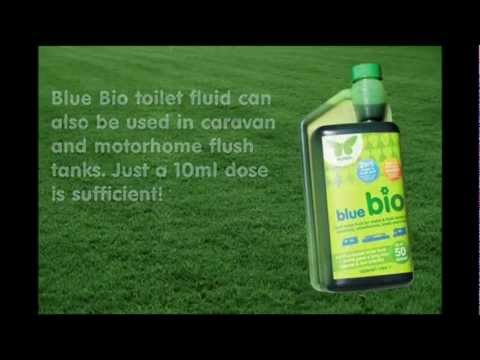 Blue Bio Toilet Fluid - YouTube
Video will open in a new window
Using the eBay App? Paste link into a browser window:
[isdntekvideo]
Additional Information